Before applying
Thank you for your interest in applying for the Paris American Academy. As you complete this application, we'll ask you to upload various documents to support your application. Please ensure you have the following documents available when it comes time to submit your application.
Please label each individually uploaded document with your full name.
Documents required for all applicants
A copy of your passport
A copy of your high school diploma or equivalent
A letter of motivation (no more than one page outlining why you would like to study at PAA, your previous experience, your goals in studying at PAA and your plans after the program)
A CV including your name, date of birth, and contact information. A CV 

details your professional (including any voluntary work) and academic history (within any field), your skills, any grants/awards you may have received and your hobbies/interests. 

Samples of your work. We expect 3-5 examples which can be initial sketches and ideas and/or finished pieces. Please include sketches done by hand and digital and/or technical sketches.
Please note: the July Creative Writing Workshop has its own application form and does not require a separate letter of motivation, resume, or CV. For more information, please contact [email protected].
Additional documents required for bachelor and semester program applicants ONLY
Learn more about what to include in your portfolio here.
2 letters of recommendation from former teachers. If you are not currently a student or haven't been for a while, please send us recommendation letters from current or recent employers.
A transcript of your current grades
Application Fee for Bachelor & Semester Program Applicants
There is an application fee of 70€ payable upon the submission of this application, for all programs EXCEPT the summer workshops. This fee is non-refundable.
Deposit for Summer Workshop Applicants
There is no application fee for summer workshop applicants; however, students will need to pay a 250€ deposit upon acceptance in order to reserve a spot in the program.
Academic Guidelines
The Paris American Academy strives to create an environment conducive to the finest level of teaching possible. Students are expected to make every effort to profit from this opportunity. To maintain academic, artistic and professional standards, the school must insist upon certain codes of scholastic behavior and procedure. You can refer to our Academic Guidelines for more information. Submitting this application notifies an agreement to these Academic Guidelines.
C'est
Magnifique
Paris
Centered in the famous Paris Latin Quarter, less than a mile from Notre-Dame cathedral and a few blocks from the Luxembourg Gardens, PAA draws upon Paris's vibrant cultural and artistic heritage, stretching its campus across the city's museums, exhibits, cafes and fashion houses.
Explore the Surroundings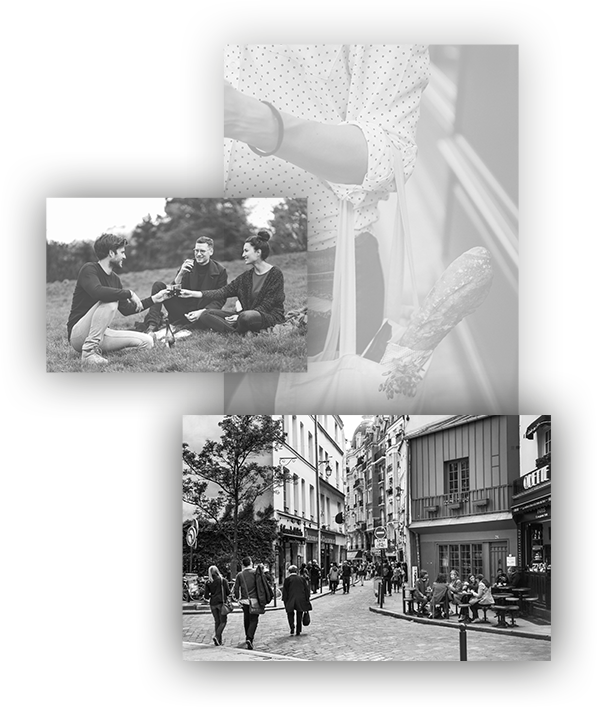 ACADEMIC GUIDELINES
The Paris American Academy strives to create an environment conducive to the finest level of teaching possible. Students are expected to make every effort to profit from this opportunity. To maintain academic, artistic, and professional standards, the school must insist upon certain codes of scholastic behavior and procedure.
Payment
All payments must be completed at least one month before starting your course. If a student needs to delay their course for any reason, they must provide a written notification at least 45 days before the course start state. Fees will apply in all such cases, with the amount depending on the time of notification and the cause.
Attendance
Punctuality and attendance are important. There is an attendance sheet in each class, and absences will impact students' grades. Students are responsible for catching up on all relevant course work missed during any absences. Any subject withdrawal must be authorized by the administration, without which an automatic subject failure will be incurred. Withdrawal from required courses could place the student's certificate in jeopardy.
Behavior
Students must bring all of their own materials to every course, and they must respect the school's materials as well as those of other students. The school does not take any responsibility for any personal items left in classrooms. It is not permitted to eat in the classrooms, nor in the buses when excursions take place. Respect for teachers, classmates and PAA personnel is expected at all times. For health reasons, it is forbidden to smoke or drink alcohol inside the school.
Assignments
All work demanded must be submitted on the set date. A lack of attendance or submission of assignments on time will result in points off or in incomplete grades. Students in this situation will need to speak with the administration to determine their future standing at the Academy.
Evaluation and Assessment
Assessments vary according to the class, and may take the form of weekly exercises, oral and written assignments, portfolios, and the construction of objects or garments. The different criteria used to assess grades may include areas such as participation and motivation, creativity and individuality, spirit of initiative and responsibility. Missing classes or failing to submit homework on time will result in grade penalties. Students concerned about their grades must make appointments with their professors to discuss their situation, to see if extra work may be done.
Student Involvement
PAA provides plenty of opportunities for students to be involved in events, activities, and issues related to the school. A blackboard at the entrance to the school is used for communicating information about such events, as well as other important information related to classes, schedule changes, or locations. It is the duty of the student to check the board and know about such changes. Some information may also be communicated via email, particularly in the case of outside classes and events.
Lodging Conduct
When students are living in apartments and studios organised by PAA, they must behave and conserve the apartment as they would in their own home. The lodgings must be kept clean at all times, with respect given to roommates and their personal items. Be careful not to change wall colors or damage walls, ceilings, floors, or windows. Any kind of damage will be charged to the student. Be careful with keys and with closing doors and windows properly upon leaving. It is not permitted to make excessive noise, nor ANY NOISE after 10pm (this is French law). Upon the student's departure, an inspection will be conducted of the apartment, at which point all personal items must be removed, the keys returned, and there must be no garbage or food remaining inside the fridge.