An Overview
How did you find your time at PAA?
My time at PAA was life changing.
I got to live in the greatest city in the world, experiencing a side of Paris few will ever get see. There is a beauty of Paris that captures your heart and makes you feel like anything is possible. I was already feeling extremely honored to be accepted into the fashion design program at PAA, this is not just a summer program, this is a chance to learn the true techniques of this art form from the very best. Holding this close to my heart, the excitement that flooded through my veins as I stepped into the beautiful academy which is PAA was something you can't really describe.
I instantly was greeted with kind souls and incredible talent. The professors of this academy hold knowledge and skills that are not seen as often as they should be anymore. The dedication to each student and making sure that the technique was clearly understood was beautiful, they are masters of their trade and they believe in it. I had nothing but hands on aid, patience and encouragement which lead me to believe that I too could master this in time and I saw my own talents grow stronger daily. I started to really see what I was capable of. The PAA program may seem like a long time, 6 weeks can be intimidating to be away from home and the day may seem long when you look at the program schedule, but to say that time flew by and it was not long enough is an understatement. I wanted to stay and even apply to attend the other programs because one was not enough. You get to work Paris Fashion Week Haute Couture, which is a dream in itself. I found myself extremely nervous at first and then by the end of it I wanted to do this as a career. I was confident and helping others backstage. You will experience moments of fashion week that will broaden your understanding of the industry we love so much and I got to see how each step leading up to that one moment is so important. I myself experienced a level of pride that was given so much responsibility in the entire production, I wanted more. You have a hands on look at these masterpieces and you will get the extreme honor of meeting these ateliers and designers who have achieved the ultimate goal. Each part of this program is a building block to coming out stronger, more confident and extremely knowledgeable. To be a part of the PAA program is to be a part of the next generation of keeping the true art form alive.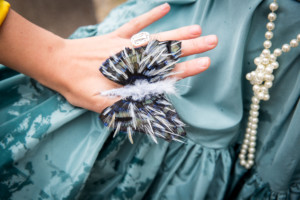 © Voyez-Vous @voyez.vous.tv
What are you currently doing?
I am still in fashion design and I own my own company. I have been commissioned to work in a variety of industries, including film and I was invited to commission pieces for the Tacoma Art museum, Fashion is Art Avant-garde fashion show. I still do custom pieces and I have been invited to participate in more couture /art fashion shows.
How did your experience at PAA shape/impact your career?
It taught me a skillset that most don't learn anymore, which has me looking at the industry completely different. I have a better understanding of how important it is to keep the tradition alive, I understand the battle against fast fashion and I have harnessed my understanding even more in quality over quantity. I have found that I take extra care in my designs and I believe in what isn't "normal" or "out there". I understand real style and I hope to help resurrect the real art form of fashion design in my generation.
You can check out some of Chiara's designs at www.zuccolottodesigns.com.